2012 continued the trend of two-thirds success rate in passing parcel taxes. While in 2010, only 47% (17/39) of school district parcel tax elections were successful, 2011 saw 67% (18/27) success rate and 2012 with a 66% (27/41) passage rate. Historically, since 1983 the overall success rate for passage of school district parcel taxes is 55% (322/584).
On Tuesday, thirteen school districts passed parcel taxes with eight measures going down to defeat. Of the thirteen successful measures, eight measures were new parcel taxes for their community.
For more details on November 6th results read EdSource article on parcel taxes.
In early September, it appeared the November ballot would have 44 school bond measures totalling $4.7 billion on local ballots. Upon further review the number of school bond measures has jumped to 99 school bond measures totalling an astounding $12 billion. San Diego Unified alone has a school bond measure for $2.8 billion. For reference in 2006, statewide voters were asked to approve California Education School Bond for $10 billion.
While everyone in the school community will be focused on the outcomes of Prop 30 (Governor's Tax Initiative) and Prop 38 (Our Children, Our Future), many school districts are looking to local voters for support. There are eleven parcel tax measures and 44 bond measures on the November ballot.
Parcel Tax Measures
In 2012, 13 parcel tax measures have passed while six measures having failed. In November, of the eleven measures, six are new parcel tax measures, four are requesting renewal of existing measures and one measure is asking voters for additional taxes on top of existing measures.
Berryessa Union Schools ($79/parcel)
Centinela Valley Union (2 cents/sq ft)
Little Lake City ($48/ parcel)
Martinez Unified ($50/parcel)
Mill Valley School District ($196/parcel)
San Bruno Park School District ($199/parcel)
San Leandro Unified ($39/parcel)
Santa Barbara Unified (elementary ($48/parcel)
Santa Barbara Unified (high school) ($45/parcel)
Ventura Unified School District ($59/parcel)
West Contra Costa Unified School District (7.2 cents/sq ft)
Westside Union, Measure WP ($96/parcel)
Bond Measures
In June 2012, 25 bond measures totalling just $2 billion dollars were approved by local voters. 9 bond measures totalling $300 million were defeated. In November the 44 bond measures would generate over $4.4 billion for K-12 school facilities.
Alum Rock Union $125,000,000
Antioch High $56,500,000
Arcata Elementary$7,000,000
Bellflower Unified $79,000,000
Burlingame Elementary $56,000,000
Butteville Union $3,500,000
Castaic Union Elementary $51,000,000
Covina-Valley Unified $129,000,000
Del Mar Union $76,800,000
East Side Union High $120,000,000
Escalon Unified $19,500,000
Folsom Cordova Unified $68,000,000
Fortuna Union $10,000,000
Hueneme Elementary $19,600,000
Inglewood Unified $90,000,000
Knightsen Elementary $3,000,000
Lancaster Elementary $63,000,000
Little Lake City $18,000,000
Lynwood Unified $93,000,000
Morgan Hill $198,300,000
Mount Pleasant Schools $25,000,000
Ocean View Schools $4,200,000
Oxnard Schools $90,000,000
Pacific Elementary $830,000
Pajaro Valley Unified $150,000,000
Palmdale Elementary $220,000,000
Redondo Beach Unified $63,000,000
Ripon Unified $25,236,190
Rowland Unified $158,800,000
Sacramento City Unified $346,000,000
Sacramento City Unified $68,000,000
San Carlos Elementary $72,000,000
San Dieguito Union High $449,000,000
San Jose Unified $290,000,000
San Juan Unified $350,000,000
San Ramon Valley $260,000,000
Santa Monica-Malibu Unified $385,000,000
Somis Union $8,000,000
St. Helena Unified $30,000,000
Stockton Unified $156,000,000
Temple City Unified $128,800,000
West Contra Costa Unified $360,000,000
Westside Union Elementary $18,510,000
Whittier City Elementary $55,000,000
Meeting the super majority thresh hold of 2/3 is tough especially for school districts trying to pass their first parcel tax. Sometimes it it better to go for a lower amount then go for what you need. Jefferson Union High School lowers it parcel tax amount from $96 to $48 and finally passed a parcel tax on its third try. New Haven's request for $180 actually slipped in support from its first attempt thirteen months ago. So the amount matters in these tough economic times.
Here is a complete rundown of June 5 school parcel taxes state wide:
Cotati-Rohnert Park Unified – $89/parcel 5 years – new
Standing at a passing rate of 66.9%, absentee votes will need to counted before the results are final.
Hayward Unified – $58/parcel 5 years – new
With 70% Yes vote, this first time measure passed.
Jefferson Union High School – $48/parcel 4 years – new
After losses of 65.8% and 59% for a $96 parcel tax, voters approved this $48 parcel tax.
New Haven Unified – $180/parcel 4 years – new
Similar to Jefferson Union High School, the second time for this parcel tax saw a decline in support after narrowly losing the first time. After losing with 66.4% last year, Yes vote dropped to 62.3%.
Redwood City Elementary – $67/parcel 5 years – new
With 69% Yes vote, third time was a charm for Redwood City.
Ross Valley School District – $458/parcel 8 years – replaces $309/parcel expiring in 2014
Not surprisingly, Ross voters approved a new parcel tax for the fourth time. Starting in 1993 with $136, Ross voters had approved parcel taxes in 1997 and 2005 with increased amounts every time.
Santa Barbara Unified – $54/parcel 4 years – replaces $50/parcel expiring in 2013
In 2008, Santa Barbara approved parcel tax measures for elementary and high school districts for a combined $50. The measures failed to extend the parcel tax.
Santa Cruz City Schools – $123/parcel 8 years – replaces $98/parcel expiring in 2013
Santa Cruz voters overwhelmingly approved extending and increasing a current parcel tax. Almost 80% of voters approved the measures.
Scotts Valley School Districts – $48/parcel 3 years – new
Following it neighbors in Santa Cruz, Scott Valley voter approved this first time measure with over 75% Yes vote.
West Contra Costa Unified – 10.2 cents sq ft 5 years – replaces 7.2 cents sq ft expiring in 2014
With 63% Yes vote the measure is failing.
California voters will be faced a myriad of initiatives in November. Two of them will have a direct impact on the public education for years to come. The new and improved Governor's Temporary Taxes to Fund Education. Guaranteed Local Public Safety Funding and Molly Munger's Tax for Education and Early Childhood Programs will raise billions for public education. Will the two initiatives be able to make their case to voters without dissing the other? This could be the critical factor in securing the needed Yes majority for passage for both measures.
One encouraging sign was the California School Boards Association delegate assembly voted to endorse both educational initiatives last week. Hopefully the other educational organizations in the Education Coalition will also take this courageous stand.
The California School Boards Association created a side by side comparison of the two tax initiatives. In addition, School Services of California created a similar summary below: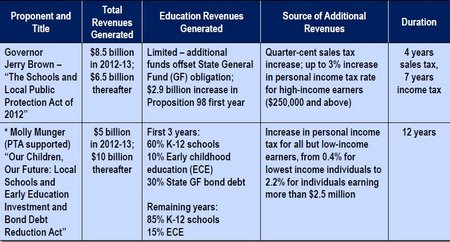 With school districts facing uncertain funding, school boards are turning to local voters to provide some level of certain funding via parcel taxes. California is the only state that allows parcel taxes as a method of funding schools.
May Results
Santa Clara voters approved a $84 five year parcel tax with a 72% Yes vote.
Voters in Saratoga Union School District approved a $68 eight year parcel tax with a 69% Yes vote.
Moraga voters did not meet the 2/3 super-majority threshold needed to pass the $225 parcel tax that did not have a sunset date. Initial results showed a 64.5% Yes vote.
For 2012, five out of six parcel taxes have passed.
Upcoming June Parcel Tax Measures
Cotati-Rohnert Park Unified – $89/parcel 5 years – new
Jefferson Union High School – $48/parcel 4 years – third try in last two years
Hayward Unified – $58/parcel 5 years – new
New Haven Unified – $180/parcel 4 years – failed in 2011
Redwood City Elementary – $67/parcel 5 years – failed in 2009
Ross Valley School District – $458/parcel 8 years – replaces $309/parcel expiring in 2014
Santa Barbara Unified – $54/parcel 4 years – replaces $50/parcel expiring in 2013
Santa Cruz City Schools – $123/parcel 8 years – replaces $98/parcel expiring in 2013
Scotts Valley School Districts – $48/parcel 3 years – new
West Contra Costa Unified – 10.2 cents sq ft 5 years – replaces 7.2 cents sq ft expiring in 2014
Each year the Governor's previews his budget for the upcoming fiscal year in January, which is a 18 month projection of revenues and expenditures. After the April personal income tax collection, the Governor then issues a May Revise. The May Revise is able to adjust revenue and expenditures projections. Then the Legislature has seven weeks to approve a budget.
Last Year
With new legislation preventing legislators from receiving a salary if they failed to pass a budget, the Legislature actually passed a budget on time. However, the State Controller challenged the whether the budget was balanced. As a result, the Legislature had to change their budget assumptions and passed a new budget that assumed $4 billion of revenue growth. By December it was clear those assumptions were too optimistic and schools experienced mid-year trigger cuts.
2012/13 Budget Roller Coaster
The January Governor's budget proposal contained a number of assumptions. First, the Governor's had optimistic revenue projections for 18 months through June 2013. Second, funding for schools would be tied to passage of a proposed tax initiative. Finally, he assumed the Legislature would pass a significant package of budget cuts affecting social services, prisons and schools.
On May 1, the Legislative Analyst Office (LAO) issued its report on revenue collections that indicated revenues are running $3 billion below the Governor's budget projections.
Since January, the Governor had to adjust his tax initiative strategy. A rival tax measure, the Millionaire's Tax was merged with the Governor's tax proposal to create a hybrid tax initiative with lower sales taxes and greater taxes for high income earners. In addition, another rival tax initiative from Molly Munger appears poised to qualify for the November ballot.
Finally, the Legislature has been slow to adopt the cuts the Governor has proposed.
2012 May Revise – The Next Turn
In the coming week, the Governor will release his new budget proposal that deals with the events detailed above. Overall, the news has not been positive so school districts will be wise to continue to plan for the worse. The LAO issued a report this week that shows school districts have been conservative in reaction to State budget uncertainty.
While California school districts are frantically trying to find funds to keep core services going, the looming implementation of Common Core Standards deserves attention from school boards. Without proper planning and preparation, school districts could find themselves overwhelmed by sheer magnitude of the work that needs to be done.
Background
In 2009, the Council of Chief State School Officers (CCSSO) and the National Governors Association Center for Best Practices (NGA) committed to developing a set of standards that would help prepare students for success in career and college. The Common Core State Standards (CCSS) Initiative is a voluntary, state-led effort coordinated by the CCSSO and NGA to establish clear and consistent education standards.
On August 2, 2010, the California State Board of Education (SBE) voted unanimously to adopt the CCSS. More information about the standards may be found on the CDE's CCSS Resources Web page at http://www.cde.ca.gov/ci/cc.
Implementation Timeline
In March 2012, the SBE approved the Common Core State Standards Systems Implementation Plan for California. The extensive 62 page document provides a framework for the intended implementation. Local education agencies are encouraged to do the following in 2012:
Support professional learning to promote awareness of and familiarity with the CCSs

Compare and contrast the CCSS with the 1997 content standards

Conduct local needs assessment to identify needs and set priorities for professional learning and develop local professional learning plan based on identified needs and full implementation in 2014-15

Review current instructional materials and identify material which aligns to CCSS

Identify CCSS that current materials do not support (use supplemental instructional materials review evaluation criteria for grades K-8) and develop lessons using resources from the library, Internet, and primary source documents

Compare/contrast CCSS with current content standards and begin to incorporate new skills in the CCSS into instructional planning

Utilize online technology readiness tool to evaluate current technology and infrastructure

Utilize parent communication structures to share resources on the CDE's Web site with parents, families, and the local educational community to promote awareness and understanding of the CCSS and new developments regarding CCSS systems implementation

Identify state and federal funds currently available for use in CCSS systems implementation

Establish fiscal boundaries and timelines for the development of specific programmatic resources

Seek funding from the United States Department of Education and private educational foundations to support CCSS implementation efforts

Seek funding from state government to support implementation efforts

Identify existing stakeholder communication structures

Identify local stakeholders who will receive communications regarding implementation of CCSS systems
Early this week a San Francisco Superior Court judge issued a tentative ruling that could have game changing impact on the future funding of K-14 education. By agreeing with the State of California that funds can be diverted from the Prop 98 guarantee, school boards will be held hostages to the whims of the Legislature. Here is the one paragraph ruling: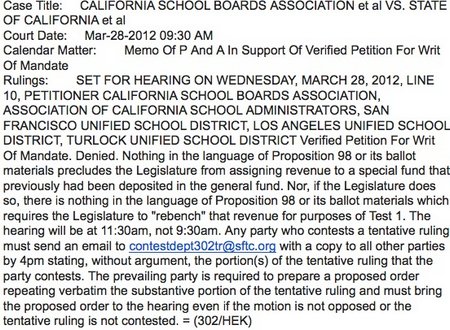 History
In preparing the 2011/12 budget, the Governor and Legislature needed to fund the shift of State services for public safety services (i.e. prisons) to counties. To cover the projected costs of $5 billion plus, revenues from an existing 1.0625 percent state sales tax rate would be transferred to counties. The net effect of this transfer was to reduce Prop 98 guarantee by $2 billion for 2011/12 and every year thereafter. The California School Boards Association and the Association of California School Administrators filed a lawsuit.
Looking Forward
With two competing education initiatives circulating to get on the November ballot and the uncertainty of how the Legislature will fund the 2012/13 K-12 budget, school boards will approach their June 30 budget passing duties with caution.

In the uncertain world of on and off funding mandates to school districts, reform is needed. However the Governor's current mandate reform proposal and the Legislature approach is highly questionable.
History
After the passage of Prop 13 in 1978 there was a concern that state spending would increase faster than population or CPI growth. So in 1979 voters approved Proposition 4 (Gann Limit), a constitutional limit on government spending at every level in the state, including school districts. In addition, a requirement to the California Constitution that school districts be reimbursed for new programs or higher levels of
service the state imposes (i.e. mandates) on them. As a result there is an expensive, elaborate legal process for determining whether new requirements constitute mandates. As of 2010, there were 36 mandates that school districts could apply for reimbursement.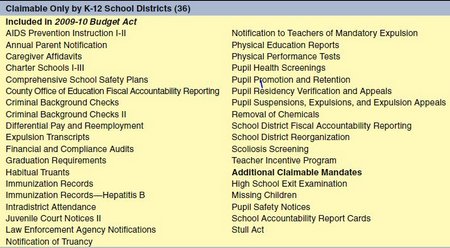 With the decade long state budget crisis, Governors and the Legislature used various tactics to delay/ignore funding mandates required by the Constitution. By 2010, the Legislative Analyst Office projected the outstanding school district mandates obligations to be approximately $3 billion dollars.
Governor's Proposal
After a number of legal setbacks, Governor Brown allocated $90 million for funding of mandates in the 2011/2012 budget. In his 2012/13, the Governor proposes mandate reform package asks for one-time incentive block-grant funding ($200 million) for compliance to certain mandates. To implement the Governor's reform proposal, the Legislature is only using budget trailer bills instead of having the Legislative policy committees the impacts of suspension/elimination of the mandates.
Buyer Beware
School districts need to contact their state legislators to insure that mandate reform includes a full review of the policy implications. The Governor's current proposal with its promise of one-time $200 million payment maybe appealing but it has hidden problems. There is no guarantee the Legislature will find the $200 million needed and there is no protection from new mandates being passed.