Starting at the May 13th BOE meetng with a workshop on May 20th and finally at the May 27th BOE meeting, the Board is being asked to decide how address the $575+ million long term vision (Executive Summary) for all our schools. This long term vision identifies improvements that would ensure the comfort and safety of students and staff, support the district's educational programs an fulfill the needs of each school community.
The challenge for the Board is take this long term vision document and prioritize projects to match the current ability of the District to use bond monies. $180 million is the maximum amount of bond monies that can be raised with a $60/$100,000 of assessed value.
So here is your chance to be a Board member. Complete the following this survey where you can weigh the many options facing the Board.
While there are many initiatives floating around to support education funding, the need to create a better governance structures is in order. California Foward is circulating an initiative, The Government Performance and Accountability Act. The Government Performance and Accountability Act would chip away at restructuring the governance process in California based a Smart Government Framework. There are three basic steps:
Provides a stable and results-oriented state budget process

Ensures that local governments are accountable for results

Encourages cooperation among local governments
The Government Performance and Accountability Act
The major proposed changes in the governance process include:
a new multi-year approach to the state budget
a mandate for performance assessments of state operations
rules requiring that any tax cuts or new programs also include a way to finance those changes
creation of 'Community Strategic Action Plans' starting in 2014
modifies the general legislative process in Sacramento. Bills would have to be in print for at least three days
there would be a tighter calendar for bill action in year 2 of a legislative session, with the extra time used for legislative review of programs
the governor would have new, unilateral powers to cut spending if the Legislature fails to act after the declaration of a fiscal emergency
While the gathering the 800,000 plus signatures to even qualify this initiative may prove fatal, the intent behind the initiative is definitely a step in the right direction. There is some hope that the intiative will qualify as billionaire Nicolas Berggruen has indicated her will support the initiative with his own money.
[subscribe2]
With the proposal by Governor Brown to place his own tax initiative on the November 2012 ballot, there could be as many four competing tax proposals to raise revenues for schools. Much more likely, the Governor's people will attempt to work out a deal with other competing groups to allow the Governor's proposal to move forward.
If supporters of public education want to raise revenue for public education the best path lies elsewhere. With redistricting the ability to elect super majorities in both houses of state Legislature exists. Rather then spend countless hours gathering signatures, collecting donations for an expensive campaign with a 50/50 chance of passing a tax ballot measure, focusing all of those resources on electing Democrats in swing districts is just as likely to be successful.
From a budgeting point of view, most school districts will end up adopting a 2012/13 budget that does NOT assume real increase in revenue. School districts can not hope the November election results will go their way. Over 90% of the school districts took the Governor's 2011/12 promise to keep education funding intact and ignored it by planning for the upcoming trigger cuts.
Hopefully groups like the statewide PTA and Educate Our State will mobilize parents to focus on electing a super majority of Democrats. Then there will be a real chance to revenues for public education.
So as the winds of change blow from right, the ship tilts to the left to steer a course toward the middle. In reading the tea leaves from Tuesday's elections across the country tells us what? Local taxes are acceptable, pensions need attention and outright attacks on bargaining rights will not work.
Local Taxes
In California there were 53 tax/bond measures on local ballots. 40 of the 53 passed with a resounding 75% or more. California City Finances provides a complete rundown of the preliminary results.
For local school districts, five of seven parcel tax measures were successful, though the communities were renewing current parcel taxes.
For those of you thinking that this local support will translate into support for a state-wide measure to raise taxes for education, I would urge caution. Voters have shown support and trust of local government and that support does not extend to state government.
Public Employee Pensions
Every day there seems to be a news story with proposals to reform public employee pensions. In the last seven days, Governor issued a 12 point plan to change pensions, the LAO issued a report on the Governor's proposal and Republican legislators called for a special session on pension reform.
On Tuesday, voters in An Francisco and Modesto overwhelmingly supported advisory measures to change pension plans in their cities.
Clearly, public employee pension reform will dominate the political conversation leading up to the November, 2012 election.
Collective Bargaining
In Ohio reversed the attempts to eliminate the ability of public employees engage in collective bargaining.
However, Palo Alto voters overwhelmingly repealed a similar arbitration law Tuesday, as did voters in San Luis Obispo earlier this year. San Jose voters agreed to sharply limit arbitration last year.
Once again, public employees unions will be subjected to changes to their current agreements in the coming year. The public wants changes but they draw the line when those changes go too far.
This week Ken Kay completed a seven part series on Becoming a 21st Century School or District. At the core of the series is the identification of four skills to be fused with content and the 3Rs (reading, writing and arithmetic). The four skills are:
Critical thinking
Communication
Collaboration
Creativity
The full reach of the model is portrayed in this graphic: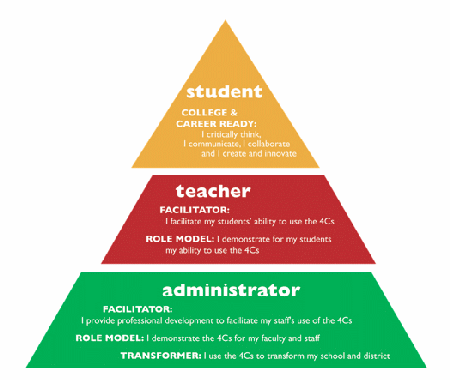 While it is counter intuitive, I would implore school boards to examine step one in this process. Given the dire fiscal circumstances facing all school districts this is the perfect time to reexamine your core values and create a new vision for your school district. The fiscal crisis is requiring all school districts to reevaluate everything so having a clearer picture of the future will help everyone make those painful decisions.
Every politician who runs for state or federal office has a platform statement on education. It is one issue that voters across the political spectrum have an opinion. The tension between teaching needed core skills and the cultural values of the society have led to numerous battles over the future of public education.
Nowhere is this cultural war more apparent than in the city of Denver. At stake in this year's election is whether a 4-3 majority backing the reform agenda of Superintendent Tom Boasberg will survive.
As a result, the fight for control of Denver schools is leading to one of the most expensive campaigns in district history, with more than $600,000 already donated in school-board races.
In one district election, the husband of a candidate shares his disbelief over the flood of money and campaign tactics used in the election. It's hard to know how you'll feel when you see a slickly produced, oil-CEO-financed flier implicitly attacking your 11-month-old baby for not being old enough to attend school and explicitly criticizing your family for not being able to afford a home.
SB 547 would have created a new collection of indices called the Education Quality Index consisting of multiple indicators. Senator Steinberg sought to change how the state measures high school performance, including factors such as graduation and promotion rates and career readiness.
In his veto message of SB 547, Governor Brown questioned the timing the implementing a new set of measurements when California is in the process of implementing Common Core standards in 2014. In addition, Governor Brown cited a sign that hung in Einstein's office: "Not everything that counts can be counted, and not everything that can be counted counts."
Related to Einstein's sign is Campbell's law which states: "The more any quantitative social indicator is used for social decision-making, the more subject it will be to corruption pressures and the more apt it will be to distort and corrupt the social processes it is intended to monitor."
What Campbell also states in this principle is that "achievement tests may well be valuable indicators of general school achievement under conditions of normal teaching aimed at general competence. But when test scores become the goal of the teaching process, they both lose their value as indicators of educational status and distort the educational process in undesirable ways."
In closing his veto message Governor Brown threw out a suggestion on how to focus on improving the quality of schools. "What about a system that relies on locally convened panels to visit schools, observe teachers, interview students, and examine work? Such a system wouldn't produce an API number, but it could improve the quality of our schools."
Over the past ten years, the American public has been given a new measuring stick for public schools. The Elementary and Secondary Education Act (ESEA) passed in 2001, (or affectionately called NCLB or No Child Left Behind) established a new system of measuring effectiveness of Federal dollars going public schools. For the past 24 months, Congress and the Administration have been attempting to reauthorize ESEA.
Now Republicans have introduced their vision for ESEA moving forward. While keeping annual testing schedule and requiring states to keep reporting on results for different groups of kids, the Federal government would focus on bottom 5% of low performing schools. The measure would basically let states decide how to label and intervene in the other 95 percent of schools.
Given the complete inconsistency between State and Federal measurements for identifying failing schools this could be a God send to all of the school boards dealing Program Improvement sanctions. However, school boards need to careful for what they wish for. The public wants accountability along adequate funding for public schools, so throwing out accountability measures need to be replaced with something the public trusts.
Today, September 9th, marks the end of the 2011 legislative session in California. In typical fashion, the Legislature and Governor have decide that since no one is watching they can slam through a bunch of legislation. However, in this new era of instant communications it is a lot harder to hide the sausage.
Let's see so far this week we saw new proposals shifting implementation of the "Amazon tax", overhauling business taxes, maneuvering to move initiatives from the June ballot to November and tweaking CEQA law to build a football stadium in Los Angeles.
Social media is pulling back the curtain surrounding the legislative process and legislators are going to have to adjust. In the old days, news cycle were daily so citizens would have no idea how the legislative process unfolded. Now news is created as it happens.
Rumors swirled early in the week that Democrats wanted to change rules when initiatives qualify for state-wide election. Under the current practice, if an initiative qualifies 131 days before the June primary, it would be voted on in June. Then on Thursday, SB 202 appeared. Around 12 noon, Friday, the text of SB 202 was finally released. Senator Hancock released her version of why SB 202 was needed. Fox and Hounds gave their assessment of SB 202. As events unfolded anyone following the hashtag #SB202 on Twitter could watch the political theater.
Any bets on the rules changing back in 2016 when Democrats select their next Presidential candidate?
In its fifth year, the Dangerously Irrelevant blog has declared August 5, 2011 Leadership Day. It is a day where bloggers blog about whatever they like related to effective school technology leadership: successes, challenges, reflections, needs, wants, resources, ideas, etc. In 2010, the Dangerously Irrelevant blog received over 100 entries.
Groups and Conversation
After the invention of printing press and the assembly of books, the delivery of education has not changed much. The conversation was compromised of content contained in books with a group of students being led by one teacher. New forms of media like the telegraph/telephone, film/record and radio/television have not substantially changed the model of teacher, student and book. Ignoring the eventual migration of all prior forms of media being digitized and being delivered via the internet, the internet fundamentally changes the nature of groups and conversations. The internet supports both groups and conversations so content is free to take whatever form makes the most sense.
Communicate With the Natives
If we have learned anything about the emerging technologies of the last decade, they have the power to topple existing power structures. The ability to coordinate, communicate and collaborate has never been easier. Join groups of like-minded individuals who are committed to changing the conversation. Start conversations with the digital natives (students). Engage and empower students and they will enlighten us on how change the delivery of education. Amass your group of followers and demand a change to the educational conversation.
From my lofty perch high on top of the educational pyramid (school board trustee), I offer this observation to all of you who are committed to overthrowing me. Time is short and the 21st century will not wait. I look forward to the coming coup d'etat.