Federal
U.S. Secretary of Education Arne Duncan urged Congress to pass new aid to preserve education jobs. He testified before the Senate Appropriations subcommittee that deals with education spending.
In December, the House of Representatives approved a measure that would also allocate $23 billion in job aid to schools, but the Senate has yet to consider such legislation.
Reforming State and Local Governance
As state budget woes continue, attention toward public sector compensation, particularly pensions get more scrutiny. A newly established website www.calstrsbenefits.us from a Stanford study is quickly responded to by the administrators of CALSTRS with a website of their own www.CalPERSresponds.com.
School Districts Impacts
Entering their second or third year of budget reductions, school districts are now out of options. The only option left is salary reduction. With school districts like Lodi and Lake Elnisore getting tentative agreements at the bargaining table, it is only matter of time (this time next year) when a majority of school districts will be sitting down at the table to get salary reductions. However, there will be significant resistance among the rank and file as witnessed by Lodi rejection of the tentative agreement and many districts going into impasse or fact finding in Oakland.
In the meantime, the furlough option is now creeping out of the non-student days into shortening the upcoming school year. In the case of the largest school district in the state, Los Angeles Unified School District is shortening this school year.
Social Media
Leaders at all levels face challenges as they search for ways to tackle cyber issues. Recent conflicts in schools pertaining to search and seizure of technological devices have brought attention to these issues. For school administrators, this struggle exists on a daily basis and continues to expand as the capability and availability of technological devices grow.

Board Members
LinkedIn is considered a social networking site for professionals and has over 50 million members. If you have not created a profile on LinkedIn, I would encourage to consider it. It is a good place to network with other professionals in your community. If you already have a profile on LinkedIn, you can join a LinkedIn groups School Board Trustees and network with other school board trustees.
Schools and the Classroom
Rather then wait for the adults to provide access to student information, a high school senior created an iPhone application that provides class schedule information, grades and more.
A college professor blogs about the pros and cons of a new trend where colleges are allowing seniors to provide a video as a part of the admissions process .

With serious demands on your time, why should you consider joining Facebook as an elected school board member? For same reason why virtually every school district eventually built and maintains a website, Facebook provides another channel of communication with your community. As Facebook continues to become part of everyday life, more and more parents and community members use Facebook. Therefore, each school district and its elected officials need to evaluate when to take advantage of the benefits Facebook has to offer.
From the Facebook statistics page, here some numbers:
More than 300 million active users
50% of our active users log on to Facebook in any given day
The fastest growing demographic is those 35 years old and older
Average user has 130 friends on the site
More than 6 billion minutes are spent on Facebook each day (worldwide)
More than 40 million status updates each day
More than 10 million users become fans of Pages each day
Beyond the opportunities for using Facebook for community engagement, there is a need to understand the implications of the educational benefits of Facebook. In 2008 study done by researchers at the University of Minnesota found that students using social networking sites are actually practicing the kinds of 21st century skills we want them to develop to be successful today. Students are developing a positive attitude towards using technology systems, editing and customizing content and thinking about online design and layout. They're also sharing creative original work like poetry and film and practicing safe and responsible use of information and technology.
Take Action -Your Profile
The first step in joining Facebook is creating a profile. The best profile on Facebook is a complete one. Don't be shy – the purpose of Facebook is to connect and interact with others, so don't be shy!
•Always provide the Basic Information about yourself: Full Name, Sex, Birthday, etc.
•Provide a good updated profile picture of yours so that people get to know how you look like.
•In the Personal Information block fill up your activities, interests, write a few line about yourself. Try to be specific about yourself. Focus on your activities, likings, achievements. Don't attempt to write an essay though.
Join CSBA Fan Page
One of the benefits of Facebook is the ability to join groups of like minded individuals to share thoughts and ideas. The California School Boards Association has created a group for school board members. At minimum, join CSBA fan page.
Friends and Requests
Once you have completed your profile and joined your first group you then have to decide how to connect with others. Facebook has the ability to group connects into "lists". A typical setup for lists would be "Friends", "Family", and "Professional". These three groups can then be used to apply different privacy policies. For example, you may want your family to see photos from the birthday party you were at last night, but you don't want your friends or professional contacts to see those photos. In a future post I will cover in detail how privacy settings can be used to maintain boundaries on the information that is shared.

RSS (Really Simple Syndication) is an application that allows people to subscribe to online distributions of news, blogs, podcasts, or other online information. Rather describe how it works in text format, watch this 4 minute short video .
Individual Benefits
The big benefit to RSS is you can opt-in to content of interest, totally controlling the flow of information that you receive. If the quality of the content in the feed declines, you simply remove the feed from your RSS reader and you will not receive any additional updates from that source. The RSS reader acts as an aggregator, allowing you to view and scan multiple content streams in a timely fashion.
School District Benefits
RSS is a great supplemental communication method that does not burden the school district with maintaining lists. RSS feeds are compiled according to the citizen's choices. Do you have an RSS feed on your district website? For those that do not have the staff, skills, or time to create the XML feeds, there are third party services that will create RSS feeds for a fee. With these new services, all the necessary components are in place and RSS is growing in use and popularity. Many constituents may now subscribe to and read RSS news feeds on a regular basis, meaning a school district's RSS feed could be seamlessly slipped into their established collection of feeds. The message – RSS is now able to add value to community communications.
Better than email, RSS feeds will not fall victim to spam filters and subscribers can remain anonymous and in control, ensuring no delivery is unsolicited. RSS feeds could be considered the evolution of a school district's print or e-newsletters. However, RSS does not replace e-mail, which offers one-to-one communication, sophisticated tracking options, and more intimate communication channels. The key difference is that RSS feeds are generalized to a public or targeted audience, but email has the potential to be customized per recipient.
The best evidence of the value I get from RSS is that I cannot imagine being without it anymore. How else could I possibly monitor 100+ sources with the same time and energy I would need to monitor 5 sources?
Take Action
If you are not a RSS user currently try the following:
1. Select a RSS Reader
I use Google Reader but there numerous other choices available.
2. Oversubscribe
I'm a big believer in subscribing to anything that looks of interest. Read what you can and don't worry about the rest. The chances that you'll see something worthwhile in a feed are far, far higher if you've subscribed to it than they would have been if you hadn't.
The world of the web is a raging river; any fear you have of sticking your toe in a big, fast current is no reason to spend all your time in a tiny stream instead, in hopes perhaps that you can drink all the water.
I don't know why people feel obligated to read every item in every feed they've subscribed to. Get over that and you'll already be a far happier person. Many people say they find relief knowing that with enough subscriptions, anything important that they missed will come up again later. Other people oversubscribe and then just read "watch lists" – searches for keywords inside their subscribed feeds. Some feed readers make this easy.
3. Try a River of News View
Some feed readers require that you click through all of one feed's items at a time. Others allow you to see whatever individual items are most recent, regardless of what source feed they came from. This is the preferred method of most news bloggers – but it could serve you well too. There's no way to read every item in every feed you've subscribed to, so after reading what's most important – try switching to what's most recent!
Try reading those items in order of appearance, until you don't want to read them any more. Then stop. Maybe mark all as read, maybe don't worry about it. Life's too short to worry about it, aren't you glad you read what you were able to find the time to read?
Suggested Sites for RSS feeds (look for the RSS icon to subscribe after you have set up your RSS reader)

This will be the first in a series of posts dedicated to evaluating the impact of social media on school districts. Watch this short video if you want to get an overview of the importance of social media.
As school board members, part of our job requires us to research topics related to public education. Being able to find relevant results from searches is crucial. Sometimes after your initial research you want to monitor the topic but not spend time recreating the search query. That is where Search Alert are used.
Why use Search Alerts
•To follow a particular topic or person on an ongoing basis — to then selectively engage with via reading, commenting on, blogging about, etc.
•To discover new conversations, content, and people within a topic area . For me, search alerts have been the most effective means for discovery of new sources of information.
Google Alerts
There are many search engines but I use Google.
Google Alerts are email updates of the latest relevant Google search results (web, news, etc.) based on your choice of query or topic. Some handy uses of Google Alerts include: monitoring for the appearance of your name in new stories and blogs, keeping abreast of stories posted about your school district and tracking a topic of interest.
To create a Google Alert you need to sign up for a Google account (this is not same as signing up for a GMail account). For additional information about Google Alerts you can read Google's FAQ . You can complete your first Google Alert by entering your search criteria like this: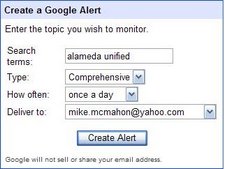 In this request, I will receive an email once a day if Alameda Unified appears in a news stories on the internet. I will not receive an email if there are no stories.
Helpful Tips
Exact Keyword Search: You can specify exact keywords by putting a plus sign (+) in front of the word. For example, if you search for the word "publish," Google search results would include "publishing" and "publisher." Adding a plus sign to the beginning of the word (+publish) will ensure that you only receive exact matches.
Exact Key Phrase Search: When you search for a phrase, Google results will returns anything that includes all of the words in the phrase, not that exact phrase. But if you enclose your search in quotes ("how to publish a book"), the results will only include that exact phrase.
Alternate Keyword: To return a search with alternate results, use "OR" between the words (the letters OR must be capitalized). For example, "author OR writer" will return results with either keyword. For a more complex search, you can put part of the phrase in parenthesis: (author OR writer) "business books".
Search a Single Website: If you want to track new entries on a specific site, you can use the "site:" operator. For example, if you want to track mentions of business books on the New York Times website, your search would look like this: "business book" site:nytimes.com.
Links to your website: Want to know when someone links to your website or blog? Your search would look like this:  link:www.alameda.k12.ca.us
Take Action
Take a minute and Google your school district. What results show up? Are there any surprising links from unexpected sources? Google your name and city together. Are your surprised by where your name is found? Create one alert and monitor the results.